I made an anime list to remember from, so I need a yaoi list...
(It's not really required for anyone to post here, nor do I really want anybody too, but this is just for my own remembrance.)
Junjou Romantica-
Damn my parents for discovering my 8 volumes of Junjou Romantica and grounding me. I won't be able to start collecting the volumes again until i'm 18. This is my first yaoi anime and manga, and i'm happy it was because it's awesome! The way each couple's lives intertwines with the others is the best! It was also probably the only anime/manga I can actually remember everyones names without fail.
Sukisyo-
Surely one of the most confusing, but emotional animes I watched. For once it was a yaoi I watched for the plot and not for the hot sexy fun stuff. Ah, only if I could play the game though cause I love the art style used. The only thing I didn't like was how the romance from the main couple didn't interest me.
Spoiler:
The sub-characters were better...
Gakuen Heaven-
School boys! The anime sucked...BAD! Well it was ok, but...there was no smex or anything! The only thing I got from it was the two lovers just kissed ONCE at the end of the series. All the good stuff is in the game and manga.
One Shot Mangas:
Medical Records of the Abandoned Cat-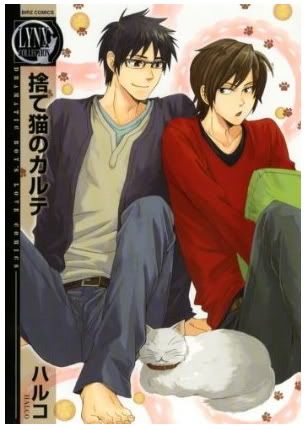 Both stories in this manga were awesome. Too bad it was a oneshot.

Cute Beast-
My friends said it was "OMG AMAZING!", but I honestly think it wasn't worth the twelve bucks. The mini stories didn't even allow the characters to progress. It was mostly about each couple hooking up.
Inu Mo Arukeba (If Dogs Could Walk Like Humans)-
Personally speaking from a lover of guys with dog-ears and dog-tails...This was AWESOME! Too bad the mangaka couldn't make more volumes because some bitch started stealing her work. She tried to sue the girl who was stealing her work, but it backfired for some reason....so she got all depressed and I guess she doesn't feel like drawing. Luckily I read this before it started selling in America and it got licensed...
Normal Manga:
Brother-
Why do they always make the front covered characters look so fugly and over feminine...The art is better inside the book. I'm not really into incest, but wohoho this book was good.
Loveless-
Stfu...it was just a stage ok. I regret reading it... This is actually just a shounen-ai, but all the anime-tards at school called it 'Yaoi'...That was before I brought Junjou Romantica to show them how real yaoi was..., but seriously that kid should get raped.
OVAs/Manga:
Hey Class President!!-
The OVAs were awesome! Too bad there was only two...they should make an anime series.

Oh well...i'll try reading it.
Koisuru Boukun-
I think the title dubs to 'The Tyrant Falls In Love' or something...The OVA was hawt... xD Sure there was rape, but how can you make someone fall in love with you if you don't? Anyway the setting was basic of how a homphobe turns gay...Yet the homphobe seemed to be the seme....Idk...It was good, and I need to start reading it pronto.
Sensitive Po*nograph-
THERE'S A MANGA OF IT!? I was barely notified right this second...I have to read it. It's kind of explict, but the characters are too cute. :3
Games...Misc...Etc...
Miracle Noton-
The best picture I could find that didn't have nudity...If someone finds the full version of this game and makes sure it works I will praise them forever! Damn those Japanese peoplez...I'm praying for an english version.